Real time strategies
Real time strategies
Here you can find the best free and open source (FOS) real time strategy games (RTS). Games like C&C (command and conquer) red alert, Dune 2000, Tycoon transport, 0AD, MechCommander and many other
Annex: CTW is a futuristic real-time strategy game. It can be played in singleplayer mode as well as in multiplayer. The creators claims that this game
The famous strategy Seven Kingdoms, is now open source. The game can be described as a combination of RTS like Warcraft 2 and turn-based strategy as Civilisation. The game has 7 nations, each with their weapons, culture and military techniques.
Mega Glest is an expanded version of the popular rialtime strategy game Glest.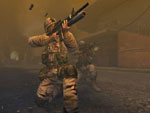 Full Spectrum Warrior is excellent realtime tactical game based on training software for the US Army. This is a very realistic game, that presents the modern warfare in complex urban environments.
Rise & Fall: Civilizations at War
is RTS game based on historical events. In this game, in addition to the standard RTS gameplay, there is "hero mode" that will give you the control on your character. It's an unique game, that some people likes, some people don't.
S.W.I.N.E. is a realrime military strategy. Nice graphics, great sound and ... surprise - your army is made of animals (pigs or rabbits)
Making money in a corporation like McDonald's is not simple at all! Behind every sandwich there is a complex process you must learn to manage:
Strategy game where you can create your own energy empire.
MechCommander 2 is Real Time Tactical game based on the BattleTech / MechWarrior. In the game you control team of military robots and perform various missions.