Real time strategies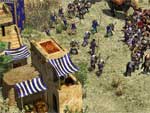 If you are fan of games like Age of Empires or Civilisation, this one will take your heart. Great graphics and sound, especially for a free game.
0 AD (AD stands for
Anno Domini - meaning: after the born of Jesus
) is a historical real time strategy. The game can be played against the computer as well as against other player in network (no server required - it can be P2P in a local network).
For the fans of Age of Empires like games, this kind of historical war-economy real time strategies are something familiar and definitely preferred over other games. For them the 0AD has no need to be explained, they will just install it and will play it right away. :)
For the rest ... little more information.

In this game, you're leading nation, that evolves in economic and military aspects. You must build buildings, keeping the army strong, gathering materials, researching, defending form and go against other nations.

The game uses OpenGL. The graphics are great. The gameplay is 3D, looked from the top under angle. You can easily zoom, using the mouse. High level of details and smooth movements are something that caches the eye. Let's not forget to mention good sound effects.

This game can be installed and played on Windows, Mac OS and Linux. We will provide you a direct link to the download page for the Windows version. If you wish to play it on other OS, please visit the official site and find your appropriate distribution.
Page to download the latest Windows version:



Official site:
play0ad.com
Game video:

If you like historical RTS, check on: Rise and Fall: Civilizations at War