Sports games
Sports games
Sports games. Different sports, one price - absolutely free.
Here you can download free of charge different sports games.
3D миниголф игра. Можете да играете миниголф срещу приятелите си или срещу computer.
Изключително добрата триизмерна графика, веселите герои и доброто озвучаване правят усещането от играта неповторимо.
Another wonderful game from greentube. Do you like to ride a mountain bike? Try it on a computer. Take part in tournaments.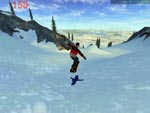 Сноуборд симулатор. Трите версии на симулатора, дават възможност за състезателно и свободно каране на сноуборд в три истински зимни курорта. Играта има режими на свободно и състезателно каране, риплей и много гъвкави настройки за нивото на графиката.
Качете се на ските за нови подвизи по снежните писти. SKI Challenge е реалистичен ски симулатор, с прекрасна графика. Можете да изберете
Впечатляващ футболен симулатор. Обичате ли
FIFA
, пробвайте и този - безплатно! Може да се играе както срещу компютър или друг играч на същото PC, така и в интернет.
3D billiards. The game includes the main variations of billiards with 8 and 9 balls, plus snooker. It can be played by one person against the computer, as an opponent or by two. The game